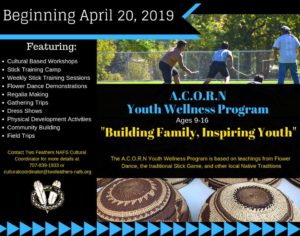 Our ACORN "Make it Stronger" workshops are a series of 5 workshops focusing on physical and nutritional health and how that effects our mental health as well as preparedness in Flower Dance and Stick Games.
With this second workshop we are focusing on C – Connecting Community, Language and Culture where we incorporate tribal language into our work outs as well as when we are eating nutritional and traditional foods (acorns). With a tribal focus on Yurok, we will have Yurok speakers tell important stories as well as give insight on how they hold their Flower Dances and Stick Games as well as what acorns means to them as a people and a tribe.
We ask the all youth who participate have on appropriate attire: clothes to work out in, possibly get dirty, close toed shoes.
All youth must have a Youth Activity Intake on file with Two Feathers in order to participate.
-AT THIS TIME: We are not taking on any new intakes. We appreciate just how many kids want to be a part of this program, however due to restrictions in budget and staff we just do not have the capacity to take on more kids. Keep up with us on our Facebook to learn when we open the program back up. Thank you.
This workshop will be held at Sumeg Village at Patrick's Point State Park
Transportation is available but limited! Please call ahead if transportation is needed.