Two Feathers NAFS is a national leader in Native mental health advancement through a blend of innovative approaches that center community building and cultural affirmation to address long standing mental health challenges in Two Feathers' geographically isolated and economically challenged region.
At Two Feathers, we envision a world filled with love and in balance within ourselves and with all of creation for generations to come. We believe this can be made possible if Native American youth and their families are empowered to achieve their full potential through culturally-affirming mental health programs. Starting with our home first, our focus is on Humboldt County, California.
The team at Two Feathers emphasizes building and nurturing relationships with each other, youth and families, and community members. We value differences in class, ethnicity, gender, sexual orientation, and other identities which are at the heart of our commitment to advancing equity and justice. Positive relationships are our highest priority.
We are a group of 30 professionals committed to centering the profound teachings of local Native people in our programs and in our way of living. We view challenges as opportunities to adapt and innovate toward excellence while we are continuously learning and growing.
Everyday we welcome joy and laughter while having fun and connecting with others.
Benefits include:
Health insurance: Employees are eligible after the first full month of employment and Two Feathers pays 80% of the cost of the employee's Anthem Silver PPO plan health coverage. Dental and Vision are also available at full cost to the employee.

Free in-house clinical supervision and ongoing training and professional development.

Retirement Plan: Employees are eligible for a Simple IRA. After six months of employment, Two Feathers will match dollar for dollar the employee's elective deferral contribution up to 3% of the employee's total annual compensation.

Full-time employees accrue 96 hours of sick time and 1 week of vacation within the first year of employment, to increase to 2 weeks of vacation earned per year after the first year.

13.5 paid holidays each year.

Two Feathers is a HRSR site and licensed employees are eligible for the HRSA student loan repayment program.

Bereavement Leave: Up to 5 days per calendar year.

Discounted gym membership with The Club.
To apply for a position with Two Feathers, please remit a cover letter outlining your interest in the position and your experience along with your resume. To email, please send to kara.c@twofeathers-nafs.org. To mail, please address it to Two Feathers NAFS, Attn: Human Resources, 1560 Betty Ct, McKinleyville, CA 95519.
---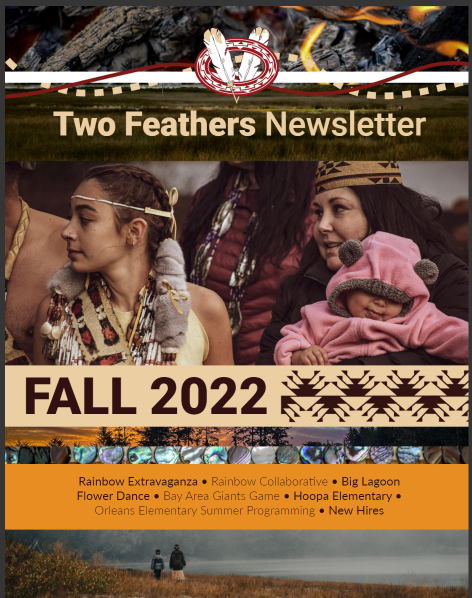 Read the latest edition of our newsletter 
here
.