"Children learn from what they see. We need to set an example of truth and action." – Howard Rainer, Taos Pueblo-Creek
Behavioral Health & AOD Services
Two Feathers has a Licensed Clinical Psychologist, Marriage and Family Therapist, Licensed Clinical Social Worker, Associate Clinical Workers, and a certified Addiction Counselor on staff, who provide culturally adapted individual and group therapy and substance abuse programming. The Behavioral Health and Alcohol and Drug Department staff are trained in evidence based, culturally adapted Cognitive-Behavioral Therapy, Indigenous based Motivational Interviewing, and Trauma Affect Regulation for Education & Therapy (TARGET).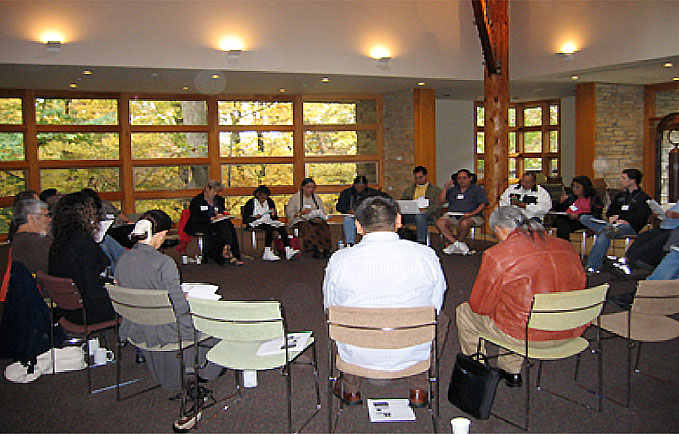 Behavioral Health Services
Assessments and evaluation for mental health challenges
Trauma informed counseling for children, adolescents & their parents
Cognitive Behavioral Therapy for children
Psychotherapy for children and their families struggling with co-occurring disorders
Therapy for anxiety issues such as panic attacks, phobias, habitual worry, and obsessive-compulsive disorders
Life Skills Education
Anger Management
Stress Management
Motherhood and Fatherhood is Sacred Programming
Alcohol & Substance Abuse
The goal of our Alcohol and Substance Abuse Programming is to decrease the incidence and prevalence of alcohol and substance abuse among American Indians living in Humboldt County to a level that is below the general population in Humboldt county. To achieve this goal, we implement alcohol and substance abuse programs for youth and their families including emergency treatment, outpatient treatment, and intensive case management. Like all of our programs we use holistic approaches to promote healthy lifestyles and families.
Substance abuse counseling and groups
Red Road to Wellbriety programming
Tribal Based Medication Assisted Program: Making Relatives Program
Indigenous Based Motivational Interviewing
Men & Women Sweat Lodge
School Based Youth Substance Abuse Programming
Referrals to Residential Treatment